Fish Peddler to Engineer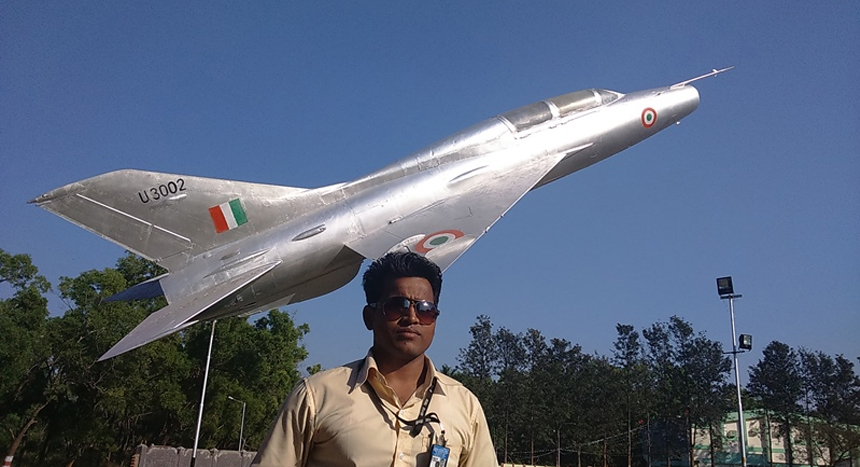 "Dream doesn't become reality by magic; it takes sweat, determination and hard work," says Santosh, a Unit planner of Hindustan Aeronautics Limited (HAL), Sunabeda, Koraput. "Not only now I am well placed in life with a decent salary but also have laid the foundation stone of success for my family as well as for my community. But I must share my gratitude to ChildFund India and Nilanchal Seva Pratisthan (NSP) who helped me in keeping my dreams alive. They instilled in me vision, self-belief, and spirit of hard work, determination, and dedication. If it would not have been for NSP, my father would still be a fish peddler and I would have been doing the same as my father… the social prestige that I get in my village as an engineer would not have been there either and our caste derision would have continued … But NSP changed my life… Initially, my parents, especially my mother was doubtful about the activities of ChildFund India and NSP. Even she doubted that we may lose our religion," he added.
Santosh belonged to a scheduled caste family and his father toiled hard as a fish peddler to earn money. He was good at studies, but there were many obstacles for him. Despite his parent's sincere dedication to support his studies all went in vain and he was forced to help his father in selling fish door to door in the villages. He says, "Sometimes my mother threatens me – help your father or I will throw your books in the fire."
One evening in the year 1996 Santosh's family attended a village meeting organized by NSP. The volunteers shared the philosophy of ChildFund India to support children in their education. His mother, who wished well for her son's career saw an opportunity with ChildFund India-NSP. She appraised her poor condition to NSP. The assurances of volunteers made all realize the significance of assistance of Child Fund India to the villagers. Later Santosh was enrolled in the sponsorship programme. But still doubts existed in the minds of people. After creation of child federation in the village most of the benefited families comprehended the efforts of NSP.
Although his parents were relieved from the worries regarding his education, yet they were still under immense pressure due to the impending marriage of his sisters. With scanty income it was very difficult to save the required amount of money for their marriage. At this crucial juncture Child Fund India supported with a onetime donation of Rs. 8000/- for his father's fish vending business. With this financial assistance they were able to ward off poverty and continue education for Santosh. This financial support turned pressure into motivation for Santosh to do his best in studies and for strengthening his family's economy.
Santosh played a prominent role in spreading the message of child rights, their development and education. He also imparted life skill education among his peer groups. Santosh led the child club in all the events and programs in the village organized by NSP. They visited the households and talked to parents where children had dropped out of school or had not enrolled in schools. The efforts paid off as all the children in the village started to come to school. Adolescent girls after completing matriculation began studying further in colleges. The villagers too gradually relied on the project activities of NSP-Child Fund India. After realizing the value of education the community ensured that quality of education in school and Anganwadi is maintained and supported by Teaching Learning Materials (TLM). They also successfully monitored the Anganwadi and school in their village. "Everything negative, pressure, challenges – were all opportunities for me to rise," said Santosh. He was eager to fulfil his dream of becoming an engineer. He passed matriculation with flying colours. The worries of his parents evaporated when the NSP-Child Fund India supported Rs. 12000/- to Santosh for pursuing technical study in I.T.I at Puri. The improved income of his father helped them in getting his elder sister married. Santosh availed Rs.1440/- as student's scholarship during his study in I.T.I, in the fitter stream and passed in first division. He decided to finance his own study further by doing a job. He joined the Coca-Cola Company at Khurdha as a fitter with remuneration of Rs. 7500 /- per month. After working there for nine months and saving enough for further studies he joined +2 sciences in the B.J.B. College at Bhubaneswar. During his intermediate study he availed post matriculation scholarship from the Government. After completing the course again the Coca-Cola Company offered him job with a higher remuneration of Rs. 9000/- per month. Simultaneously he joined a Diploma course in Zenith Institute of Science and Technology. He attended the institution and studied hard during the day and worked in the company at night to save money for his studies. After completing diploma in the year 2013 he got the opportunity to join in the Hindustan Aeronautics limited (HAL), a unit of Ministry of Defence as a trainee engineer.
"To be a champion, you have to learn to handle stress and pressure. But if you've prepared mentally and physically, you don't have to worry. This, I have learnt from the life skill education given by NSP," said Santosh.
Having witnessed the success of Santosh his neighbour said, "We also motivate our children by giving example of Santosh's success. Two children of the village namely Manas and Abinas are also following his footsteps. They also aspire to fulfil their dreams. Manas is now working in the Coca-Cola Company where Santosh had worked. Abinas has availed post matriculation scholarship and joined Diploma in engineering at Bhubaneswar even after his father's death."
Now Money is not an impediment for him but Santosh is determined to fly high. For him Success is not final, failure is not fatal; it is the courage to continue that counts. He often visits his village and involves himself in the child federation that helped him a lot. He mobilizes the community though the youth club to have a positive perspective towards life and encourage the youth for better and healthy living.