Books,

my Friends Phase 2 Ujjwal Bhavishya ki Ore campaign kicked off

Quality of education is still a concern in India and many studies reveal that children do not have grade appropriate literacy and numeracy skills.

Our program outcomes over the years have shown that child-friendly learning aids and teaching methodology helps enhance learning and comprehension capability of children, which encourages them to stick to study programs and builds reading habit. Researches also show that reading in early years is one of the leading indicators of academic and professional success in life.

With this in mind, in 2014, ChildFund India initiated Books, my Friends campaign under its Reading Improvement program for the underprivileged children between age group of 6-14 years in 14 states and 1 UT.

Books, my Friends campaign aims to make reading joyful and fun for children and help them improve their reading, comprehension and learning abilities by providing access to reading material, removing the barriers to reading and to facilitate them with a supportive environment that could nourish their curious minds and foster their future successes.

During the first phase of the campaign, ChildFund India distributed Reading Bags consisting of age appropriate multi-lingual 15-20 books to around 40,000 children, which were expected to benefit over 115,000 children, and create a ripple effect for the community.
Phase Two – Ujjwal Bhavishya ki Ore
On 19th June 2015 at India Habitat Centre, Delhi, ChildFund India launched its Reading Improvement campaign – Books, my Friends' Phase 2 titled "Ujjwal Bhavishya ki Ore" (Towards a Brighter Future!).
This phase is about removing barriers to reading. The areas where ChildFund India operates are very backward, deprived of basic facilities essential for decent living – lack of electricity being one of them. In order to remove this one of the major barriers to reading, ChildFund India is giving out Solar Lamps with chargers to all the enrolled child/family, to help them overcome poor electric supply problem in their areas. This will enable children reading anytime and anywhere.
The event was launched with a curtain raiser video on the campaign and brief information about the current scenario of literacy levels in India – the need behind this campaign.
To kick off the second phase of Books, my Friends campaign, ChildFund India distributed Solar Rechargeable Lights to 20 of its children from Firozabad, where one of its programs on child labour is being implemented.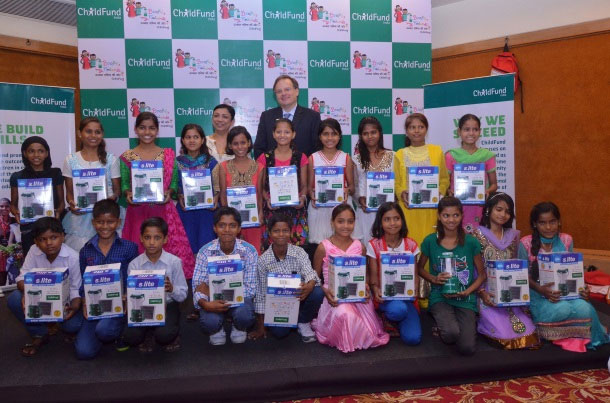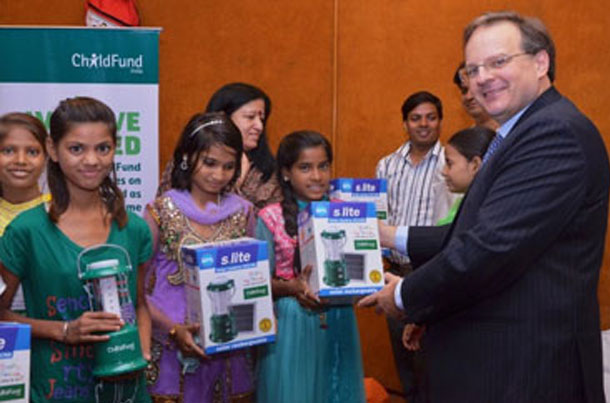 To make this a nation-wide movement, by bringing the alarming numbers and scenarios representing the low literacy levels of our younger generation into the notice of everyone, an inspiring and thought provoking Panel Discussion on 'Lighting up the Future – Making reading more accessible to children and how to do it' was organized.
According to a report by United Nations Educational, Scientific and Cultural Organisation, India has the highest population of illiterate adults at 287 million, a whopping 37% of the global total. There are huge disparities existing in education levels of the country's rich and poor. So, the panel discussion, based on the topic of literary in India, explored the subject of reading among 6 to 14 year old children and how we can help them develop affinity towards reading.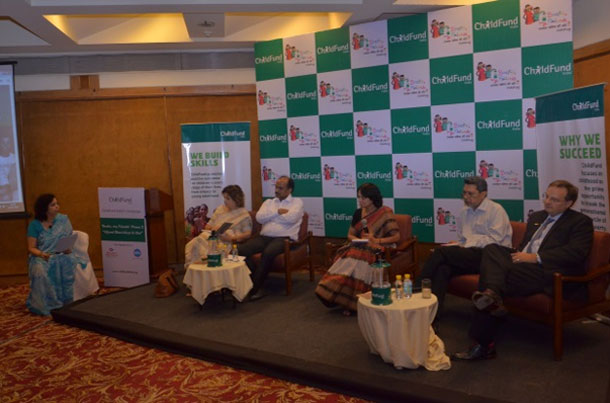 With a hope to start a 'literary movement for literacy' by joining hands with individuals as well as organizations for a bigger impact, an hour long panel discussion was conducted among well-known personalities – Dr Syeda Saiyidain Hameed (former member of the Planning Commission), Vivek Prakash (operations head of Jubilant Bhartia Foundation), Professor Sujatha Kalimili (HoD, Educational Administration at NUEPA), Subir Shukla (principal coordinator at IGNUS PAHAL,a non-profit company working on education and Geoffrey Petkovich (Asia regional director for ChildFund International).
During the discussion, a short video message from Mrs. Salma Ansari, wife of India's Vice President, Mr. Mohammad Hamid Ansari and the Chairperson of Al Noor Charitable Society, talking about importance of inculcating the habit of reading from an early age among children and steps that can be taken towards the same.
The panellist discussed about the current scenario of reading habits among children in India with a special focus on children in rural sections, the barriers to reading, and the
various obstacles India with a special focus on children in rural sections, the barriers to reading, and the various obstacles in the way of enhancing literacy levels among children in rural India.
Various questions like "A 10-year-old child from an unprivileged background reads like a five-year-old child in urban India. Why this discrepancy exists?", "Are there any important factors to improve reading and comprehension skills of children?", "Do authors address the IQ levels of children today?" and "Do our books reach rural India? What is your view on the mechanism that we need to ensure this?" were addressed by the panelists.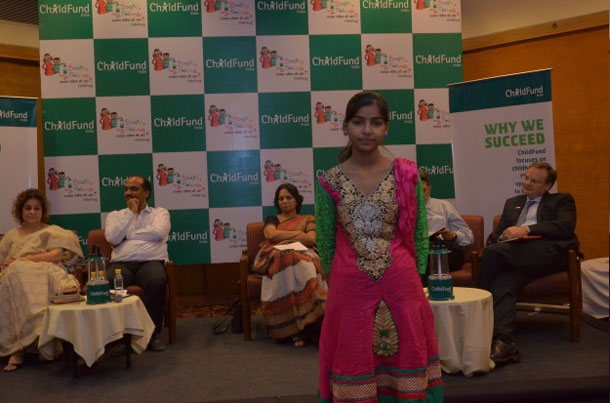 The discussion was followed by an interesting Q&A session with the audience including some of the children who received the books and solar lanterns from ChildFund India. "My school doesn't have a library but I love to read and I've read all the books given by ChildFund India," shared Tina, a child from Firozabad district enrolled, in the program.
This discussion served as a platform where experts from various backgrounds came together, shared their views and best practices, and together devised ways through which their shared goal can be achieved.
While concluding the event, Neelam Makhijani, National Director of ChildFund India announced the upcoming collaborations and emphasised the role of the campaign for a brighter India.