Change Begins with YOU - your one step can change one child's life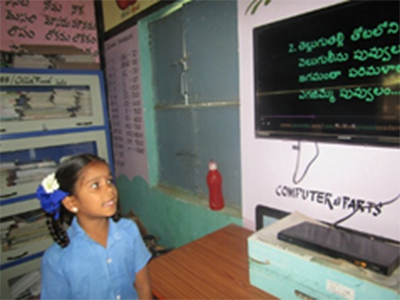 "ChildFund transformed our school into a SMART school. We now have a digital classroom, computer room, laboratory, library, toilets and water filters. We also have a lot of sports material and music kits. I improved my grades through e-learning classes. I love the audio-visual classes because it helps me to understand better. I can now remember the lessons for a longer period which I couldn't earlier. I also love the interactive sessions with our teachers after class. We learn a lot of other interesting things apart from our syllabus. My friends and I, we don't miss classes anymore because school is no longer boring."– shared 9 yr old Bharani, 4th grade government school student from Andhra Pradesh
Children are the change-makers of tomorrow and it is our duty to encourage, educate and prepare them for a better future.  ChildFund India believes that childhood is the most critical phase of one's life; it's the best time to learn, imbibe great values and form one's personality.
To change more childhoods and the learning experience of more children, ChildFund India designed a campaign - 'Change Begins with YOU', through which
Every child gets the education they deserve
Every child grows in a safe environment within their community
We learn to value and appreciate what we have
We inspire change through sharing
We transform into active and responsible citizens
'Change Begins with YOU' is a campaign which engages schools and its students in advocacy, volunteering and fundraising activities to support our efforts to give children from low-income families, an opportunity to lead lives as healthy, educated and responsible citizens. We believe these activities instill values of social contribution, compassion, and generosity in school children.
Since 1951, annually ChildFund India has been able to successfully make a difference in the lives of millions of underprivileged children, young people and families across 15 States. We can change the lives of many more children with the support of like-minded individuals and institutions.#BecauseChildhoodMatters
There are many more Bharanis, with dreams in their eyes, who with your little support can shine bright.
LET'S JOIN HANDS AND GIVE CHILDREN THE FUTURE THEY DESERVE!