ChildFund

India Launches Campaign to Help Children Read with Joy

ChildFund India today launched an innovative campaign titled "Books, my Friends (Kitabein meri dost)" to encourage children to go beyond their text books and discover the joy of reading. The campaign was launched here today by Anil Kumble, former captain of the Indian cricket team, who presented books to children from marginalized communities in Karnataka.

Event Pic 2The new initiative aims to introduce the joy of reading to nearly 115,000 underserved students in 14 states, and many more over the next 3 years. In the next few days, similar books distributions will be held all over India with "reading champions" urging children to read for pleasure.

Recalling the importance of books in his own life, Anil Kumble said: "Books can be so many things to children – a world of their own, a new adventure, the beginning of new ideas, and so much more. They are essential in helping children develop the skills they need to create their futures. I am glad that ChildFund is trying its best to ensure that not only do all children have access to books, but also discover how much joy is stored in them."

"Reading for pleasure is falling across the world; more so in India where the deprivation of books prevents too many children from achieving their full potential and contributing actively to society," said Neelam Makhijani, National Director of ChildFund India. "Books, my Friends is our commitment to help them accomplish more by taking a non-traditional route to learning, a route that can be fun as well."

With an initial investment of $1.2 million, the campaign focuses on providing access, creating a supportive environment and removing barriers to reading. For many of the children served by the campaign, these may be the only books they own. By giving children the opportunity to own a book, "Books, my Friends" attempts to inspire them to become lifelong readers.

ChildFund India's reading bag contains books that are in the language of the children, are colourful, on glossy paper and full of exciting stories. The books are age appropriate and come in four categories — 6-8yrs; 8-10yrs; 11-12yrs; 13-14yrs. In each set there are books that are simple to read, but also some that create an aspiration in the children to learn more – some books are in English and a few are bilingual.

Event Pic 1
ChildFund India Country Director Neelam Makhijani adresses the gathering. On the stage, former Cricketer Anil Kumble and ChildFund Asia Regional Director Geoffrey Petkovich
The aim is to spark children's curiosity and interest, ultimately impactingtheir learning levels in school. This will encourage retention in school, reduce dropouts, and propel more children towards higher education. ChildFund will also conduct activities around the books – story telling, skits, painting; reading aloud – to make the books come alive for the children.

The next stage will be to set up community libraries, train partner organizations to run reading enhancing activities that interest children, form and strengthen parents' clubs to be proactive, and enable school management committees (SMCs) to provide a reading-friendly environment. Eventually, the campaign aims to effect systemic change in the reading culture for young students throughout India.

Click the following link to know more: http://tinyurl.com/kgll8jt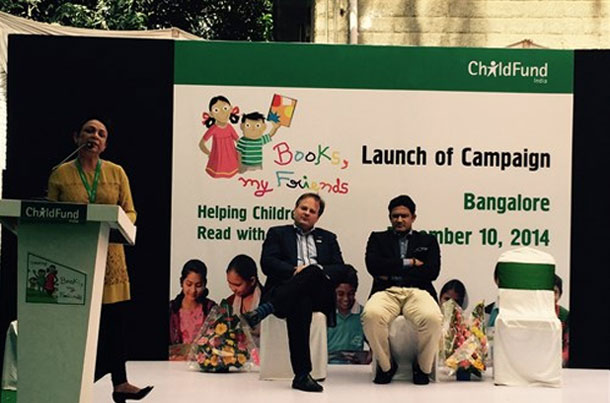 "Reading for pleasure is falling across the world; more so in India where the deprivation of books prevents too many children from achieving their full potential and contributing actively to society," said Neelam Makhijani, National Director of ChildFund India. "Books, my Friends is our commitment to help them accomplish more by taking a non-traditional route to learning, a route that can be fun as well."
With an initial investment of $1.2 million, the campaign focuses on providing access, creating a supportive environment and removing barriers to reading. For many of the children served by the campaign, these may be the only books they own. By giving children the opportunity to own a book, "Books, my Friends" attempts to inspire them to become lifelong readers.
ChildFund India's reading bag contains books that are in the language of the children, are colourful, on glossy paper and full of exciting stories. The books are age appropriate and come in four categories — 6-8yrs; 8-10yrs; 11-12yrs; 13-14yrs. In each
set there are books that are simple to read, but also some that create an aspiration in the children to learn more – some books are in English and a few are bilingual.
Event Pic 1
ChildFund India Country Director Neelam Makhijani adresses the gathering. On the stage, former Cricketer Anil Kumble and ChildFund Asia Regional Director Geoffrey Petkovich
The aim is to spark children's curiosity and interest, ultimately impactingtheir learning levels in school. This will encourage retention in school, reduce dropouts, and propel more children towards higher education. ChildFund will also conduct activities around the books – story telling, skits, painting; reading aloud – to make the books come alive for the children.
The next stage will be to set up community libraries, train partner organizations to run reading enhancing activities that interest children, form and strengthen parents' clubs to be proactive, and enable school management committees (SMCs) to provide a reading-friendly environment. Eventually, the campaign aims to effect systemic change in the reading culture for young students throughout India.
Click the following link to know more: http://tinyurl.com/kgll8jt