GARIMA - Adolescent Reproductive and Sexual Health
There are 225 million adolescents comprising nearly one-fifth, i.e. 22%, of India's total population, belonging to a heterogeneous group of people. They vary in age, marital status, economic status, cultural background, religious beliefs, etc.
Due to various socio-cultural and economic barriers, a large number of adolescents in the country are out of school, are married early, work in vulnerable situations, are sexually active, and are exposed to peer pressure. For instance, 14 million Indian adolescents are married before they reach the age of 18.
The vulnerable youth are at a high risk of exposure to unprotected sex, harmful sexual practices, RTI/STIs (Reproductive Tract Infection and Sexually Transmitted Infection), and HIV/AIDS. This situation is further exacerbated due to inadequate knowledge and a lack of access to health facilities combined with cultural taboos, myths, and misconceptions, that restrict adolescents from asking for advice, seeking medical attention, etc.
Adolescent girls, in particular, have restricted access to SRH (Sexual and Reproductive Health) services which exposes them to the dangers of poor menstrual hygiene practices, non-consensual sex, and unsafe pregnancies and abortions.
ChildFund India's adolescent reproductive and sexual health program, known as 'GARIMA' meaning dignity, empowers young people (11 -19 years of age) for better sexual and reproductive health. The program equips adolescent boys and girls with age-appropriate sexual health knowledge to empower their decisions regarding health, rights, and safety; develop respectful social and sexual relationships, and understand that their choices affect their well-being and that of others.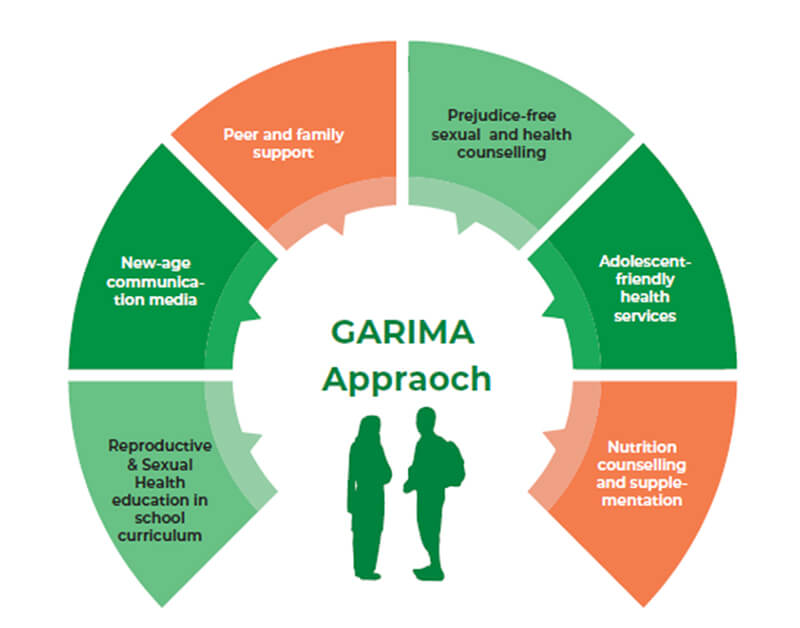 Community-based Interventions
Adolescents from the community with inherent leadership quality are trained by ChildFund India to become Peer Educators who provide other adolescents with a safe space, knowledge, and guidance on sexual and reproductive health, promote healthy sexual behaviors and enhance gender equality using communication material like videos, short films, etc. We hold workshops and training regarding Positive and Effective Parent-Child Communication to encourage parents to talk to their children about sexuality, sexual risk reduction, and gender-based violence. We also train School Management Committees and teachers in comprehensive reproductive and sexual health education through the Reproductive & Sexual Health Through Schools intervention and help them make this module a part of the school's curriculum for the adolescents in 6th to 12th classes.
Supporting Adolescents with Counseling and Health Services
The Comprehensive Sexuality Education and Counseling reaches out to adolescents with comprehensive sexuality education and counseling through one-on-one sessions or group sessions via outreach clinics, government Primary Health Centers (PHCs), community health workers, and peer educators. The Jigyasa Centers are run by trained community-members, peer educators, and visiting doctors and provide non-judgmental health services such as counseling, OPD, and check-up; and refer cases to the Government ARSH clinics for health services. The Nutrition Counseling and Supplementation intervention works towards improving adolescents' nutritional intake by providing them nutrition counseling, fortnightly nutritional mix, nutritional supplements and link them with appropriate schemes for the provision of Iron folic acid tablets, etc. The Reduction in Anemia through Normative Innovations (RANI) intervention identifies anemic adolescents and provides the appropriate information and knowledge on nutrition, seasonal foods and food diversification, management of anemia at home, community, and Institution level. We also train communities to make affordable sustainable menstrual pads, train women and girls with correct disposal methods, etc for overall menstrual hygiene management.
Communication and Technologies
Our program is constantly evolving to keep up with the technologically-adept adolescents. As we progress, we shall include tech-solutions such as telephone helplines and e-counseling, and communicate via social media, V-SAT, SMS, and other ICTs to support adolescents.
In the past few years, the program has reached almost 2 lakh adolescents in 26 districts across 11 states. The program directly aligns with Sustainable Development Goals (SDGs) 3 and 5, which stand for good health and well-being, and gender equality, respectively. It also contributes to the National Adolescent Strategy.