Harini, a 15-year-old from Hyderabad, was worried that she will not be able to get good marks in English in her upcoming board exams since schools have been closed since March 2020. She had no support for studies, and then, she approached ChildFund India
We speak with Abhijeet Madane, ChildFund India's Senior Project Officer to know his brave, sometimes dangerous journey from being a COVID warrior to Patient to a Survivor.
Saloni is a 12th grade science student from Dumka district in Jharkhand who dreams of becoming a medical professional one day. But since March 2020, she couldn't attend online classes because she didn't have a smartphone or internet. She was worried that missing online classes will affect her future!
Mahesh Patidar is a ChildFund Hero who has been working throughout the pandemic to help people in Madhya Pradesh
Namita and Tapan are a middle-aged couple with two children in a hamlet in 24 South Parganas district in the backwaters of Sunderbans, West Bengal.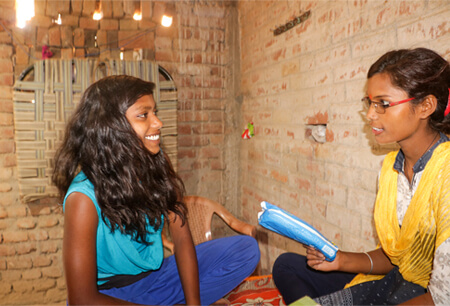 In Jharkhand, change is visible as, adolescents are becoming aware of their menstrual, reproductive, and sexual rights.
Last December, ChildFund India launched a nationwide campaign called Books, My Friends to provide bags full of age-appropri
"Dream doesn't become reality by magic; it takes sweat, determination and hard work," says Santosh, a Unit planner of H
Olapada of Baulakani is just like any other village in Mahakalapara Block. Most of the villagers work as wage labourers. In
Twenty Six year old Sumitra is busy pedaling a whirring sewing machine giving final touches to a brand new dress for a wait
"The times are changed, even as we are changed in them," sings the Munda community of Kantalsuan village – a village
Few years back, Kalahandi district of Odisha state in India has remained in the news for all the wrong reasons as many deat
Naino Damor, 8 years old sponsored child studying in class two, belong to a poor family from the village Pipliya of the Jha
India, world's second-fastest growing major economy, is also the nation with the largest child labor force in the world.