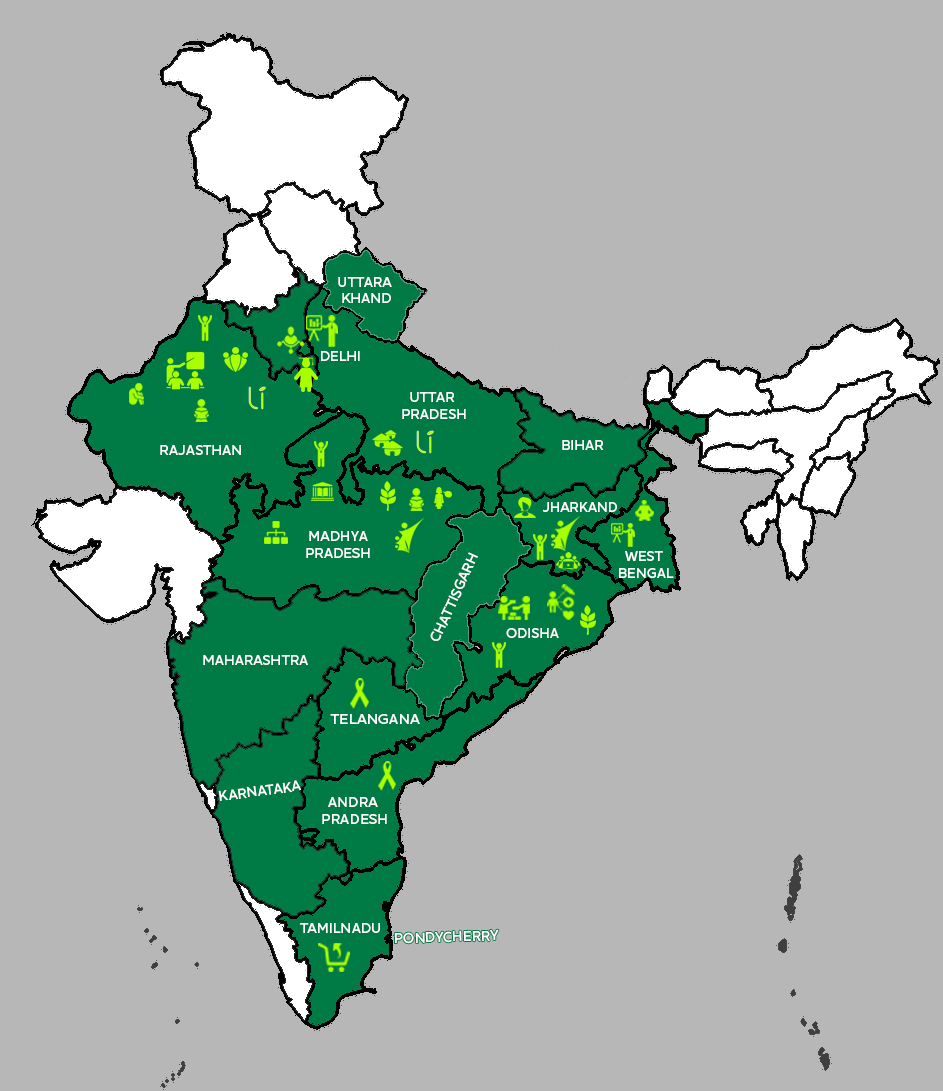 Link Workers Scheme

Reaching out to High Risk Groups and vulnerable men and women with information, knowledge, skills on STI/HIV prevention and risk reduction in rural belts of Andhra Pradesh & Telangana. Supported by State AIDS Control Society, NACO.

UDAAN

Supporting youth, especially girls, from underprivileged families in the villages of Rajasthan, Madhya Pradesh, Jharkhand and Odisha with their higher education, facilities and opportunities to help them select and pursue career of their choice. Supported by ChildFund Deutschland.

Youth Livelihood and Empowerment project [Daksh]

To provide alternative livelihood for tribal youth, SC/ST, addressing the issue of chronic drought & migration in some of the villages of Jharkhand and Madhya Pradesh.

Community Based Learning Centre

Restoring the educational rights by providing improved access to learning opportunities for tribal children in Rajasthan. Supported by Kavli foundation and Barnfonden.

Yuva Project

Skilling youth in some of the slums in Delhi for securing sustainable & dignified livelihoods, living healthy life and contributing towards their community development & empowerment.

SNEH- Project

Addressing child malnutrition in the villages of Madhya Pradesh through providing critical support to mothers and children during the first 1000 days of their life. Supported by Moody's Analytics.

Fullerton Reading improvement Project

Enhancing reading skills of children in the age group of 6 to 16 years, studying in 1st to 8th grade of government schools in selected villages of Rajasthan. Supported by Fullerton India Credit Company.

Library initiative

Providing children from rural areas of Rajasthan have access to quality reading materials and supportive environment in order to develop reading skills. Supported by ChildFund International.

Mukti

Fostering educational and other rights of the migrant children belonging to the families working in brickfields in West Bengal. Supported by ChildFund Deutschland.

Drought Response

As part of emergency response to drought effected areas in Odisha and Madhya Pradesh, food for work activity was initiated in selected drought affected villages to support the villagers with livelihood and risk reduction for future. Supported by ChildFund Korea & ChildFund Deutschland.

Combating Child Trafficking

Empower the socially and economically backward population (overwhelmingly tribal) of Jhadol and Kotra sub-districts of Udaipur District in Rajasthan, thereby reducing their vulnerability to childtrafficking. Supported by BMZ & ChildFund Deutschland.

RET-URN 2

Ensuring refugees in Tamil Nadu have access to information, documentation and reintegration services to support their return to Sri Lanka. Supported by ChildFund Australia.

Centre for Learning and Excellence in Child Development (CLECD)

Ensuring a vibrant community of practice supporting in establishing more relevant, effective, and sustainable program strategies and interventions for ChildFund India using Center of Learning and Excellence as a vehicle in Delhi.

Literate India

Ensuring deprived, excluded and vulnerable children aged 6-14 yrs in selected government schools in the rural belts of Uttar Pradesh and Rajasthan achieve age appropriate learning outcomes.

Lalan Palan

Striving to Improve the nutritional levels of infants & young children belonging to under privileged communities in the selected communities in Uttar Pradesh.

Age appropriate Learning in Schools

Developing and piloting age-appropriate training modules with the support from Dr. Ambedkar University in Delhi and West Bengal.

UNMUKTA

Working towards reducing the incidence of forced and early marriage of adolescent (12-18 years) girls by 40% in 50 villages of Jharkhand.

I-Star [Improving Success Through Academic Readiness]

Enhance learning levels of most marginalised and at-risk children of Danagadi Block (about 600) in Odisha through quality early childhood and non-formal education with a focus on improving reading skills. Supported by Jindal Stainless steel.

Reading Improvement Program

Enhancing literacy/reading skills of children in the age group of 6-14 years belonging to the most deprived, excluded and vulnerable (DEV) communities in Rajasthan, Madhya Pradesh and Odisha.

Stregthening local capacity on Disaster Risk Reducation

Vulnerable children are better able to cope with shocks induced by natural hazards and every day risks, hence, providing support to buid capacity of children and youth to reduce risk and manage disasters better in Odisha.

Poverty to Prosperity - Creating 1000 Tribal Women Entrepreneurs Program.

Equipping 1000 below poverty line female youth from the selected villages in Madhya Pradesh, between the age of 18-24 with entrepreneurship, leadership and financial inclusion skills required for creating an alternate source of livelihood. Supported by Citi Foundation.

Mobile Library

Providing access to reading quality books in selected villages of Jharkhand through a Mobile Library – Wisdom on wheels. Supported by ONGC.