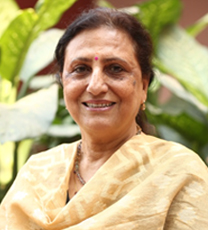 Dr. Nirja Mattoo - President and Chief Functionary
Dr. Nirja Mattoo is a development professional with over 30 years of experience in managing projects on social entrepreneurship, livelihood, education, health, and corporate social responsibility with national and international NGOs. Currently, she is working at S.P. Jain Institute of Management and Research, a premiere business school in Asia, as Chairperson for the Centre for Development of Corporate Citizenship (DOCC) with an objective to sensitize management students influencing practice and promoting value based growth; provide management inputs to the social sector; and create awareness amongst businesses for social responsiveness. She has scaled up DOCC program through strategizing system and processes, building partnership with NGOs and Corporates across geographies. Dr. Nirja Mattoo has a Master's degree in Social Sciences and PhD in "Role of Women in Managing Development Programs of Panchayat Raj Institution in Maharashtra" from University of Mumbai. She has received various recognitions including Team MBA Award U.S.
---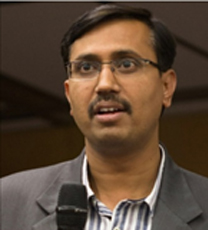 Mr. Suresh K. Krishna – Treasurer
Mr. Suresh K Krishna is the Co-founder & CEO of Yunus Social Business Fund Bengaluru, Co-founder & Partner of Yunus Social Business India Initiatives and Co-founder of Buzz India Trust. Prior to this, he was at the helm of affairs at Grameen Koota, since its inception in 1999 as Managing Director (till July 2015) and Non-Executive Director till July 2017. He was instrumental in developing Grameen Koota into a large, socially responsible MFI having its outreach in 5 states of India. He has co-founded the microfinance industry associations, namely Microfinance Institutions Network and Association of Karnataka Microfinance Institutions. He has played a very active role in developing the microfinance sector in India. He has also co-founded Grameen Affordable Shelters P. Ltd – a company which develops affordable housing for the low-income households along with Mrs. Vinatha M. Reddy – Founder of Grameen Koota. He is the Managing Trustee of Navya Disha Trust, an NGO working to improve water, sanitation, financial literacy, supplementary education for school children. He currently serves on the board of BinaArtha – an MFI in Indonesia, Mifos.org in USA – an open-source core banking software for financial services, SAS Health Care P. Ltd. – an affordable healthcare company for the low-income households. Mr. Suresh is a regular speaker and presenter at various national and international forums. He is passionate about agriculture, social businesses including micro housing, financial literacy, client education, renewable energy, waste management, health care and livelihoods for the poor.
---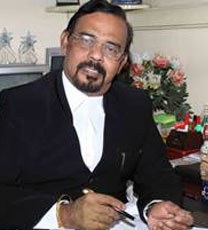 Mr. G Sukumaran - Member
Mr. G Sukumaran has been practicing as an Advocate for the last 36 years through G Sukumaran and Associates in Bangalore, Chennai and New Delhi offering various legal consultation services. Established in the year 1975, this firm is backed with a vision of providing its clients the best possible legal support. G Sukumaran and Associates is one of the most prominent Lawyers in Bangalore, representing both Civil and Criminal cases at High Courts and Supreme Court. Presently they are also representing various clubs, education Institutions, corporates, etc. Over the years, G Sukumaran and Associates in Bangalore has established a firm foothold for itself. The business has become a renowned name that helps individuals in gaining probable understanding and backing in courts of law.
---
Mr. Paul Bode - Member
Mr. Paul Bode is the Vice-President Global Operations, ChildFund International and oversees the execution of Program and Sponsorship operations through 21 Country Offices supervised by 3 Regional Directors. Previously, he worked for ChildFund as Regional Director of the Americas (2010-2017) and VP Program Development (2017-2018). A member of ChildFund's global leadership team, he has worked for 30 years in child-focused international development organizations and has worked especially in the Latin American region in both managerial and technical positions. Before coming to ChildFund, he worked for Plan International where, among other positions, he was Program Director at international headquarters and Regional Director for Latin America. He was co-founder of the Latin American chapter of the Global Movement for Children. Mr. Paul holds a master's degree in Cultural Anthropology with a specialization in rural development of Latin America from the University of Amsterdam, Netherlands.
---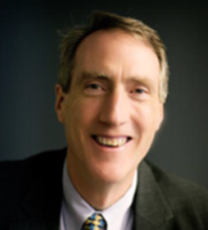 Mr. James Tuite - Member
Mr. James Tuite was appointed in September 2006 as the Chief Financial and Administrative Officer (CFAO) at ChildFund International. He is responsible globally for the finance, accounting, assurance, treasury, legal, office administration and human resources of this $240 million organization with offices in 25 countries around the world. Previously, he worked at the Population Council for 12 years as the Chief Financial Officer and Secretary-Treasurer. Prior to joining the Council, Mr. Tuite traveled extensively with the overseas programs of Save the Children as an Auditor/Operations Analyst for over 3 years. He is a Certified Public Accountant and worked for the Boston Office of Coopers and Lybrand. He also worked as a volunteer in Korea. He speaks fluent Korean. Mr. Tuite is a member of the American Institute of Certified Public Accountants and former Chairman of the Board of InsideNGO. He holds an undergraduate degree in Accounting from Northeastern University in Boston and an MA in International Educational Development from Teachers College, Columbia University.
---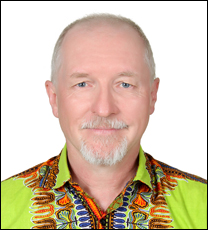 Mr. Roland Angerer - Member
In his almost 30 years of professional career in development, Mr. Roland Angerer has worked in all continents. Starting with advocacy and development education in his home country Austria, he later joined the UNDP in El Salvador and Honduras and then switched to Africa where he coordinated the programs of an Austrian NGO in Zimbabwe and Mozambique. In 2001, he joined Plan International as Country Director in Colombia and from 2006 - 2010, he headed the country operations of Plan International in India. From August 2010 to December 2013 he served as Regional Director in the Americas and from January 2014 to May 2018 he was responsible for the operations of Plan in 12 countries as Regional Director for Eastern and Southern Africa. Since June 2018, he is the Regional Director for ChildFund International in Asia, based in Bangkok. His academic background – a PhD in Communication Science from the University of Salzburg/Austria and a Masters in Development Management from the Open University/UK – helped him to understand that development is a constant process of evolving attitudes, mindsets and choices for people and requires a continuous and firm rejection of all forms of injustice and discrimination.
---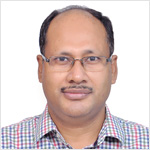 Chandrashekhar Pandey – Director, Programs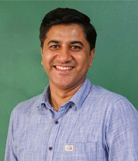 Vijay Naugain - Director, Human Resources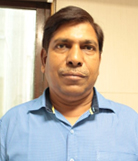 Vijay Sastry - Director, Strategy, Innovation, Learning and Knowledge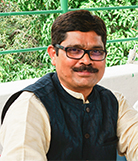 Abhaya Kumar Behera - Director, Resource Mobilisation and Communication.