ChildFund India's Response to #COVID19 Crisis
As India fights against the COVID-19 pandemic, the isolation, lockdown and suppressed economic activity are hurting families around the country. The situation is impacting adversely to the most vulnerable and disadvantaged children and communities.
Families in villages and urban slums are struggling to get food, basic hygiene items, clean water and healthcare. People are losing their livelihoods; many of them are living in crowded conditions as they have nowhere to go. In such conditions, COVID-19 could cause devastating, exponential harm to these families and communities.
We're working hard to prevent that and provide support to the children, families and communities who are in desperate need of the lifesaving support. Our ongoing programs already include measures that will help to keep them safe, like hygiene education, handwashing practices, social distancing, etc.
In response to this pandemic, there is a need to ramp up these efforts to help ensure that vulnerable communities have adequate resources and clear guidance on their use. Every preventive action helps and every one of us can make a difference to stop the spread of this virus. That includes every child in our programs, every member of their families, us and you.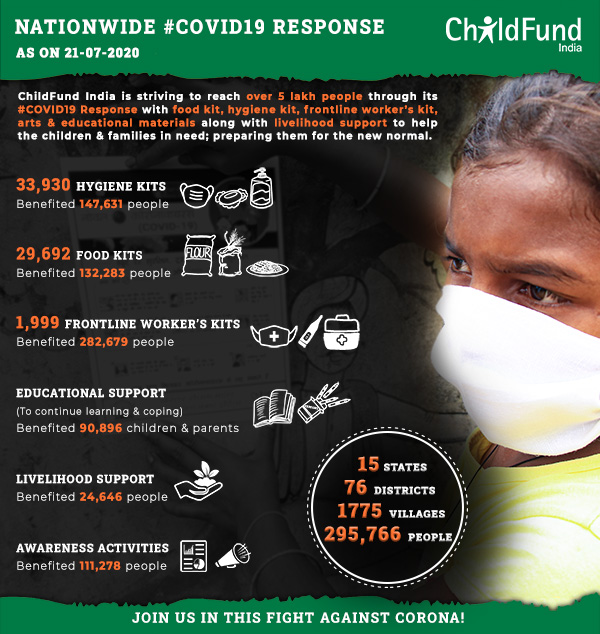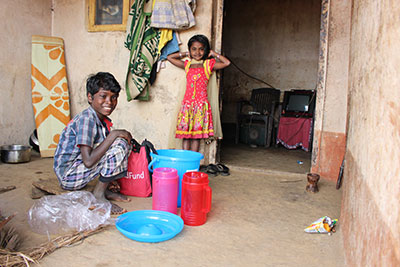 ChildFund India is taking appropriate and proactive steps to protect children, communities, partners and staff from this Global Pandemic of COVID-19. So far, we have done the following,
Staff & partners are kept up to date with Government guidelines & advised to adhere to the same.
Partners are advised to avoid large gatherings in the field/community.
Field staff has been instructed & guided to create awareness on hygiene, social distancing, prevention & symptoms of the COVID-19 infection.
If any child is suspected to be infected with COVID-19, support will be provided to the family for diagnosis & treatment.
Partners are supporting Government by tracking people with relevant travel history in their locations & advising returnees to self-quarantine.
Distribution of food baskets and hygiene kits to most vulnerable families to ensure food security and family hygiene in this humanitarian crisis.
Supporting Frontline Workers with hygiene kits and COVID-19 related information to keep them safe and maintain government service delivery.
ChildFund is working on different possibilities of recovery and rehabilitation interventions, especially:
to provide Psychosocial support to children as they are confined to homes for over two weeks and likely to continue beyond.
to ensure education continuity at the home settings.
to restore livelihoods of vulnerable families.
WASH interventions to increase hygiene practices.
Apart from this, on our child protection advocacy front particularly in light of COVID-19 response, lauding the steps taken by the Government of India, on 25th March, 2020 Joining Forces For Children – India (an alliance of six leading child development organizations - ChildFund India, Plan India, Save the Children India, SOS Children's Villages of India, Terre des hommes and World Vision India) has shared a joint appeal addressed to Hon'ble Prime Minister of India with a copy to the Ministry of Women and Child Development, Ministry of Health and Family Welfare, Ministry of Human Resource Development, Ministry of Finance, NITI Aayog, and National Commission for Protection of Child Rights (NCPCR) with a fervent request on behalf of the vulnerable children of India to:
Prioritize and identify the most vulnerable and at risk children for prevention and response interventions
Provide uninterrupted access to critical services for the most vulnerable children and their families
Provide child-friendly outreach messages
Protect children in child care institutions
Prevent separation and stigma of child and caregiver
Scale-up investment in child protection system strengthening
But as you know the need is large and resources limited, we need your support to reach as many families as possible. Your contribution can help thousands of children, their families and communities stay safe & healthy during this pandemic.
Donate now to save lives! Let's stand together and fight this back!!
Product Details for support:
Family hygiene kit
Quantity
Food Basket
Quantity
Frontline Worker's Kit
Quantity

Hand sanitizer

100 ml

Rice / Atta

15 kgs

Thermometer for ASHA

1

Mask

5 nos.

Dal

1 kg

MASK -95

1

Soap

5 nos.

Oil

1 ltr

Mental health IEC

For 1 village

Disinfectant

250 ml spray

Sugar

1 kg

Awareness materials on COVID-19

For 1 village

Bleaching powder

250 gm pack

Iodized Salt

1 kg

Handkerchief

5 nos.

Turmeric Powder

200 gm

Chili Powder

200 gm

Garam Masala Powder

200 gm