Support

from Sweden behind progressive development in Udaipur and Jharkand

Impressive progress has been made – but much work remains to be done. This is the impression I take with me when Udaipur ProjectI leave our dedicated project in Udaipur, supported by Swedish sponsors. We have spoken to women in mother groups who convinced us of their strength with competence and charm – they actually made Neelam Makhijani, the new National Director of India, promise them four new sewing machines!

We have listened to children between the ages of three and six sing in English for us in a Balwadi center in Rana. They were led by their proud teacher, 18-year old Nichla Patiya, who has ten years of schooling herself. We have met devoted and commevent4itted members of staff of ChildFund India and our local partner Alert, who spoke about the differences between now and eight years ago, when their work started. These differences can easily be spotted in school material, wells and vegetable gardens, but there is also a more invisible one that may be more difficult to achieve; the one inside the minds of the people. We have also met mothers and children in need of support – like the women building a road by hand as part of a government scheme. Some of their children were sleeping alongside the road, since the women had nowhere to leave them.

Moving ahead in Jharkand

-      Illiterate parents tend to believe that the only option for their children is to work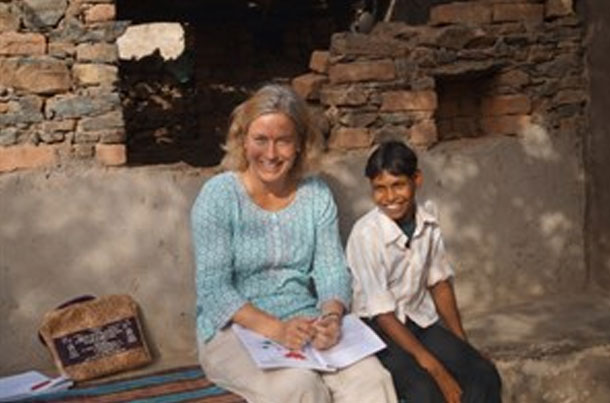 . My main argument when convincing them in letting their children to go to school is to ask them if they don't want a better life for their children.
- Community mobiliser Renuka Kumari told me this when we visited Ranchi in Jharkand, which is as close as we could go to Project Vidya, 186 kilometers Northeast of Ranchi.
Due to security reasons, we were not able to travel all the way to the project area. So, we were delighted to m With support of the Swedish Postcode Foundation, an educational project is being implemented in 76 villages. 54 per cent of the people live under the Government's fixed poverty line and the area is characterized by a predominantly tribal population.
A Child Learning Center was opened in our school recently and we have already noticed an increased presence of children in school, Samdeo Dervar, Headmaster of an upgraded middle school in Ranka told me.eet children and families as well as teachers and project staff in Ranchi. A main goal of the project is to strengthen the 'para' teachers, which is the name of temporary and untrained teachers. A middle school with one trained teacher and 4-5 para teachers seems to be the rule rather than the exception in this part of the country. The para teachers will receive training in teaching methods and new material. In addition, a Child Learning Center is to be established in every school. Children can go to the centers to do homework and to get guidance from adults.
All the children from the Viduya project we met in Ranchi go to school. They also work at home with different chores.They tell us that their parents scold them, but they do not beat them. Although, it happened to one little girl when she climbed a tree in school. She was punished by a teacher who used a stick and struck her hands. The children are shy but curious. They speak about an everyday life of school and work and play and tell us that they eat rice and lentils and occasionally, chicken. After a few hours of sitting still they play in the yard, like nine year-olds do all over the world.
On behalf of Barnfonden, ChildFund Sweden, I would like to thank ChildFund India, your staff and your partners, for five intensive days of new experiences. We learned with our minds and hearts and return home to continue our work for children and families in India.
For the team from Sweden,
Carolina Ehrnrooth
Secretary General
Barnfonden