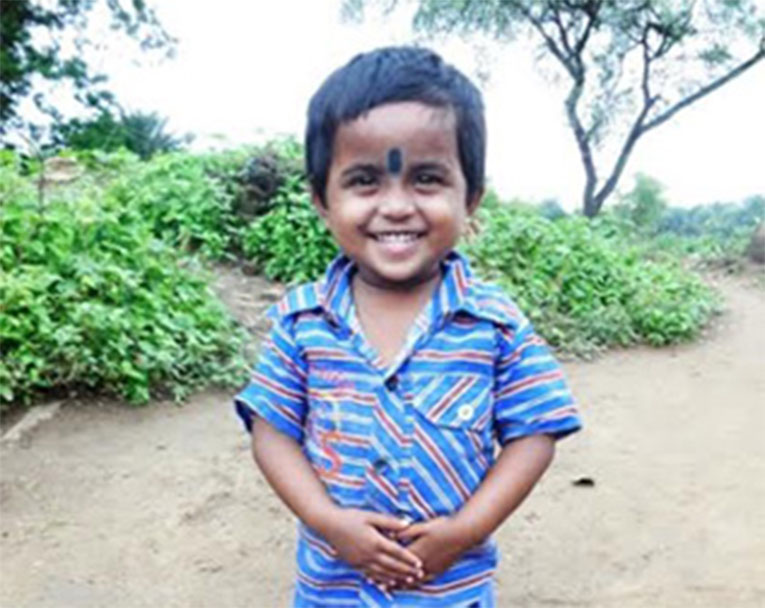 The Kalahandi district of Odisha has been facing drought and famine for many years. Most of the inhabitants are dependent upon agriculture and on daily labour for their livelihood. As a result of the weather conditions, thousands of people are suffering from malnutrition, diarrhoea, malaria and acute tuberculosis. Although the government has initiated many programs and the area has received much aid, there is still a long way to go to improve the quality of life of the children in the region.
The family of three-and-a-half-year-old Priyanka lives in one of the villages. Her father toils to take care of his widowed mother, wife, two sons Rahul and Ranbir, as well as Priyanka.
He became worried about Priyanka, who was not growing appropriately for her age. Through his Below Poverty Line (BPL) card issued by government, he could gain limited support. As the family did not have agricultural land, they were dependent on daily wage labour work.
Priyanka's birth as a healthy baby had brought joy into her parent's lives but this joy could not be sustained for long. After only one year her health started deteriorating. Slowly she became weak, non-enthusiastic and irritated as she was growing mal nourished. As a malnourished child, she was suffering from developmental delays, weight-loss and illness.
ChildFund India works to ensure that every child has the access to good quality health care, clean water and nutritious food. As soon as the functionaries got to know about Priyanka's health, they contacted to get detailed information. Her parents were invited to a "childhood illness management program" in the village.
Priyanka's parents met the Community Mobilizer and discussed her problem in detail. The community mobilizer found that the girl had fallen in the red zone in the growth monitoring chart. He realized that she needed immediate specialized attention and care, and helped her parents visit the nearest Child Health Center without losing time.
At the Center, the Medical Officer referred Priyanka to the nutrition rehabilitation department, where she was needed to be admitted. Priyanka's parents could not afford this as they are daily wage labourers, and have to work every day to ensure food for other members of the family.
With a heavy heart they returned to their village. When the Community Mobiliser came to know of their situation he visited them and assured them of help from ChildFund India.
He ensured that Priyanka regularly got her supplementary nutrition three times a day along with other food items. Working as a team, they began to see improvement in Priyanka's condition. Gradually she started gaining weight and became more active.
In the meantime, with persuasion, regular guidance and sustainable mentoring, the behavior of Priyanka's family was also changing (in the choice of food, processing of food, timings, cleanliness, sanitation practices etc.) and the whole family was benefitting. Dedicated follow-up by the staff brought Priyanka out from red zone in one year.
Now at 3.5 years of age she weighs 11.6 kg. She is regularly going to the Anganwadi Center, while the family too is taking part in various ChildFund India programs.