GARIMA – Adolescent Reproductive and Sexual Health
India is home to over 225 million adolescents (2015) between the ages of 10 and 19, who constitute about one-fifth of the country's total population. This makes adolescent health crucial to achieving the country's Sustainable Development Goals (SDGs). Due to various socio-cultural and economic barriers, a large number of adolescents in India are out of school, married early, working in vulnerable situations, sexually active, and affected due to peer pressure. Adolescent girls, especially, are exposed to multiple layers of vulnerability owing to restraining customs and social norms.

ChildFund India's adolescent reproductive and sexual health program – GARIMA, which means dignity, works towards empowering youngsters of 11–19 years for their better sexual and reproductive health. Poor knowledge, lack of information, absence of proper guidance, parents' ignorance, and insufficient healthcare services play a dominant role in adolescents' poor health.
Thus, GARIMA equips adolescents with age-appropriate sexual health knowledge, which empowers them to make appropriate decisions regarding health, rights, and safety. In other words, it supports adolescents in practicing healthy behaviors, forming positive relationships, accessing essential services, and preventing sexual exploitation and abuse through various interventions. For this, we have been working in collaboration with healthcare professionals, schools, communities, families, government agencies, and local partners. Hitherto, the program has served almost 1.05 lakh adolescents in 26 districts across 11 states in India.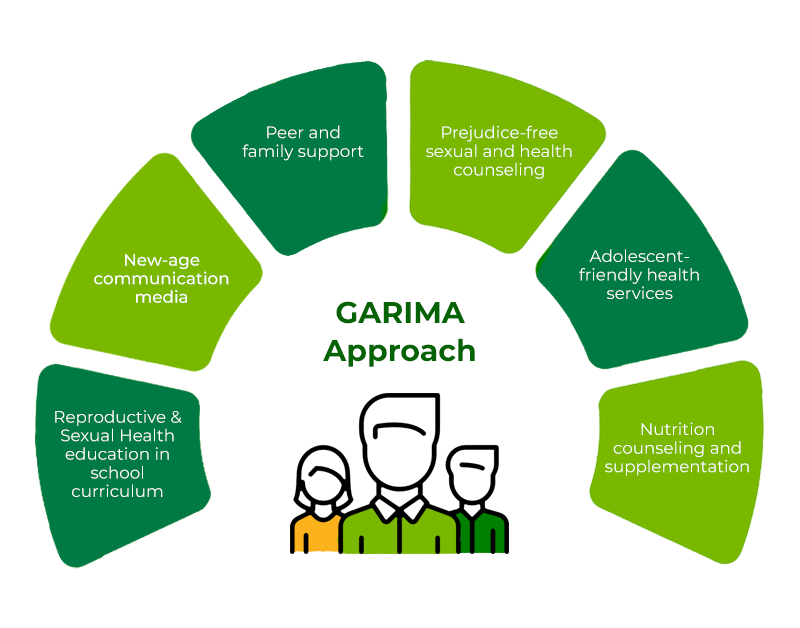 Community-level Interventions
Peer Educators
Peer Educators train adolescents with leadership qualities in communities to become educators who provide other adolescents with knowledge, and guidance on sexual and reproductive health. Peer Educators promote healthy sexual behavior and gender equality by using various communication tools including short films, videos, etc. In 2020 , we had trained 69 adolescents on Sexual Reproductive Health Rights.
Family Matters!
Family Matters initiative emphasizes on positive parenting and effective parent–child communication on sexuality and sexual risk reduction through workshops and training for parents. Under Family Matters, we encourage parents to initiate conversations on sensitive and often tabooed topics such as gender-based violence and to increase understanding around social norms that increase risks of unsafe sex and its negative health impact on adolescents. In 2019-20, 49 sessions were conducted with parents in 3 districts of 2 states.
Reproductive & Sexual Health through Schools
ChildFund India's Reproductive and Sexual Health trains school management committees and teachers on children's reproductive and sexual health and help them in including the module in their school's curriculum for classes 6–12 students. More than 51 schools in 3 districts of Odisha and Uttar Pradesh run projects on reproductive and sexual health rights, through which 61 school teachers have been trained on sexual reproductive health rights.
Counseling and Health Services
Comprehensive Sexuality Education and Counseling
ChildFund India's Comprehensive Sexuality Education and Counseling provides comprehensive sexuality education to adolescents and counsel them in one-on-one and group sessions through outreach clinics, government Primary Health Centers, community health workers and peer educators.
Jigyasa Centers
We establish Jigyasa Centers in communities, wherein trained community members, peer educators and visiting doctors provide non-judgmental health services such as counseling, OPD, and health check-up. Also, in these centers, cases are referred to Government ARSH clinics for health services. So far, we have established 418 such centers in two states
Nutrition Counseling and Supplementation
Nutrition Counseling and Supplementation works towards improving adolescents' nutritional intake by providing them nutrition counseling, fortnightly nutritional mix and nutritional supplements, and linking them with appropriate schemes for the provision of iron-folic acid tablets, etc., free of cost.
Reduction in Anemia through Normative Innovations (RANI)
The Reduction in Anemia through Normative Innovations (RANI) project works with adolescent girls to improve and ensure their nutritional levels, especially hemoglobin level. Through RANI, we identify anemic adolescents and provide them with information on nutrition, seasonal foods, food diversification and management of anemia at the home/community/institution level. Rani has benefitted over 30,000 people including 1700 children across 14 districts in Uttar Pradesh and Madhya Pradesh.
Menstrual Hygiene Management
The intervention Menstrual Hygiene Management works towards eradicating harmful beliefs and taboos related to menstruation in communities through awareness and training sessions. Menstrual Hygiene Management focusses on the importance of menstrual hygiene by training people to make affordable sustainable menstrual pads, informing women and girls about correct disposal methods, etc. So far, we have trained more than 200 adolescent girls under this initiative in Uttar Pradesh and Rajasthan.
GARIMA aligns well with the SDGs  and the National Adolescent Strategy.
Enhancing Employability
At Daksh Centers, we provide young people from 19 to 24 years who are from families facing marginalization, especially women from rural areas and urban slums, with hands-on, practical training to harness opportunities in the job market.
1,05,000
Beneficiaries Reached
Support us in improving adolescents' health and well-being of adolescents