3E - Employment, Entrepreneurship, Empowerment for youth
India has the largest share of the youth population in the world. As per 2011 Census, almost 35% of India is between the age of 15–24 years. The working population of India is expected to increase to 592 million by 2020, indicating that the youth plays a significant role in the country's economic development (National Youth Policy 2014). Thus, this demographic dividend offers a great opportunity to India.

ChildFund India's comprehensive program 3E (Employment, Entrepreneurship, and Empowerment for Youth). It caters to the aspirations of adolescents and youth through employability and entrepreneurship skill development to facilitate their engagement in social development and civic processes. The program works in line with the national policies –
National Youth Policy 2014
 and
National Policy on Skill Development & Entrepreneurship 2015
. In order to fulfill our vision, time and again we have been implementing 3E interventions through collaborations with both national and international organizations including ILO, ACCIONA, NABARD, and so on. The 3E model and its interventions have benefitted benefitted 1,20,000 adults, children and youth across 64 districts in India through direct implementation and by engaging local organizations.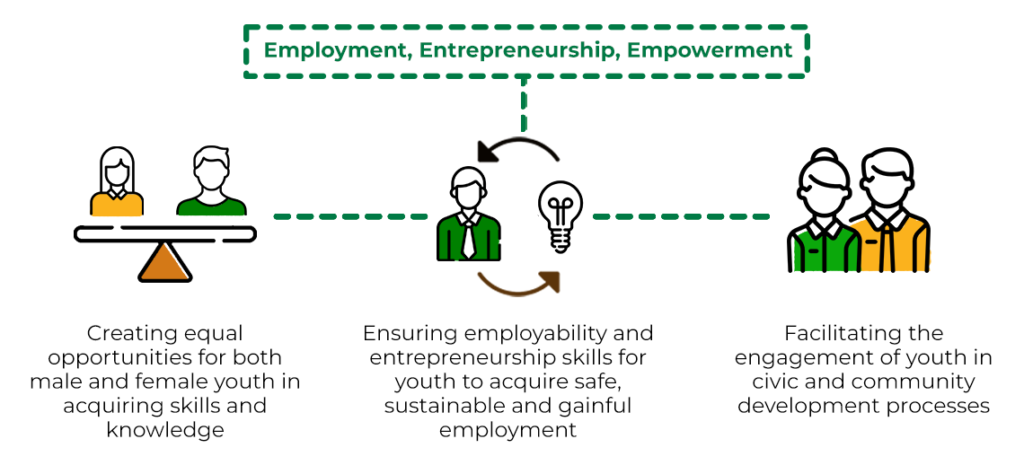 Supporting Skill Development Training
At Daksh Centers, we provide young people from 19 to 24 years who are from families facing marginalization, especially women from rural areas and urban slums, with hands-on, practical training to harness opportunities in the job market. Market-oriented employability training and placement support is provided to the unemployed and underemployed youth in Daksh Centers, that have been established. Post-training, students are placed in various organizations through job fairs organized by government and private companies.
So far, we have trained 861 youth in Daksh Centers located in 85 districts across 14 states. Over 300 students have been successfully trained and placed in various organizations.
Employment Hub – E-Saksham We have set up well-equipped Youth Resource Centers under our intervention E-Saksham at various marginalized locations, for example, slums. Through these centers, we provide industry-accredited employability training to youth and help them find permanent jobs. As part of E-Saksham, we have set up libraries within communities and also provide training on communicating in English and basic computer skills.
Building Entrepreneurial Capacities
Entrepreneurship Training and Business Promotion
As part of the Entrepreneurship Trainings and Business Promotion initiative, ChildFund India partnered with the International Labour Organization (ILO) for Training of Trainers and to develop an Entrepreneurship initiative in Delhi with National Institute for Entrepreneurship and Small Business Development (NISBUD) to support 115 youth to start their own business. In addition, 378 youth and parents have been trained on financial literacy under this initiative.
Sustainable Livelihood Development Program
Our Sustainable Livelihood Development Program supports youth and women to start their micro-enterprises across various sectors such as agri-business, poultry farming, animal husbandry, handicrafts, etc. In 2019-2020, we had trained 256 youth and out of which 78 were supported to start their own business.
Agriculture and Allied Livelihoods
Agriculture and Allied Livelihoods addresses issues of poverty and food insecurity with a focus on smart agricultural practices, market support services and linkages with government programs to promote diversified livelihood options. In 2019-20, through a comprehensive multi-layered approach, ChildFund India established 55 demo plots on organic farming, 38 demo plots on multi-cropping of vegetables covering 119 small and marginal farmers and 196 community seed banks. In Jhabua, Madhya Pradesh and Udaipur, Rajasthan, 207 families and 30 families, respectively, have been provided support for backyard poultry farming.
Institutional Linkages for Livelihood Support
ChildFund India has supported 700 Self Help Groups (SHGs) to develop institutional linkages across 15 states with National Bank for Agriculture and Rural Development (NABARD). A total of 540 youth have been supported with credit linkage to financial institutions and government schemes to scale up their business in 19 districts of Odisha, Chhattisgarh, Bihar and Jharkhand.
Women Entrepreneurship through Poultry Farming
ChildFund India's Women Entrepreneurship through Poultry Farming transforms the lives of women in rural India by introducing them to poultry farming. In Women Entrepreneurship through Poultry Farming, we extend infrastructural and financial support to women in rural India to start their businesses. Also, we establish local producer companies for market linkages and train them in leadership, planning, marketing and financial literacy to become empowered entrepreneurs.
Empowering through Civic and Community Engagement
Lifeskills
ChildFund India's Life Skills module helps the youth to attain real-world, non-academic skills such as problem-solving capabilities, work habits, healthy lifestyle, personal competencies, diversity, entrepreneurship, and community involvement. Such life skills enable them to make informed choices in their personal and professional lives.
Youth Civic Engagement and Fellowship
ChildFund India's Youth Civic Engagement builds the capacities of young leaders to address and advocate social issues related to gender equality, unsafe migration, poor drinking water facilities, school safety and disaster risk reduction. Youth Civic Engagement has been working with more than 5,100 members across 361 youth clubs, in 14 states.
We established Youth Fellowship to provide financial support to high-performing youth groups who under the program take up initiatives to address developmental issues affecting their village or communities.
Empowering Community Members
Our intervention works towards strengthening local governance systems and mainstreaming child protection and child-focused development through engaging and training Panchayati Raj community members. Under Empower, we have formed child protection committees at village levels and linked communities with district-level institutions to access child protection agencies and government-led child development schemes.
3E is committed to achieving the United Nations Sustainable Development Goals 1, 5, and 8, which aim to remove poverty, bring gender equality and promote decent work and economic growth, respectively.
Inspiring Imagination with Books
The Reading for Leading intervention works towards building literacy skills, both reading and writing, of children belonging to communities who have been experiencing deprivation, exclusion, and vulnerability.
Join us to help young India realize their Potential