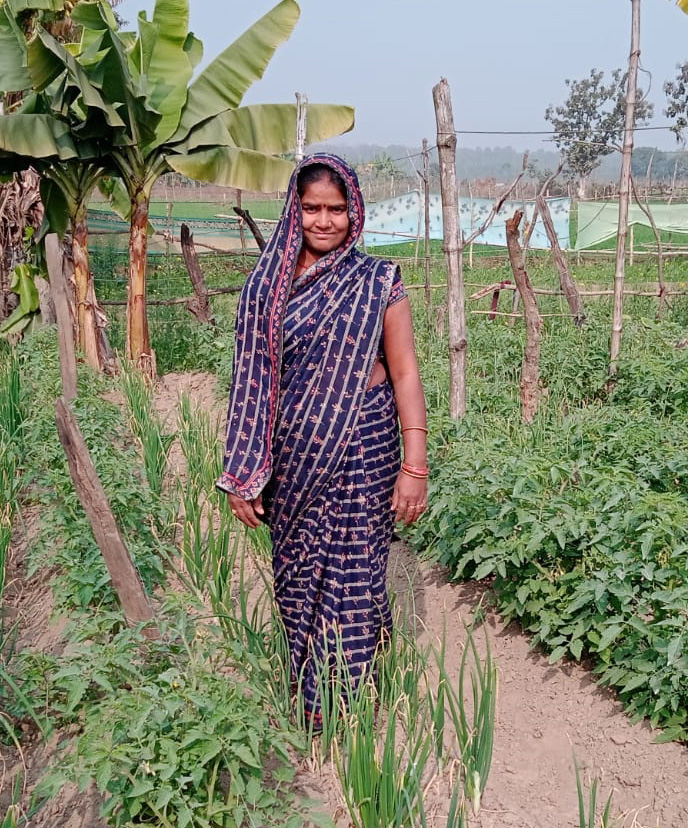 Sobhawati is a small farmer, living in a rural area of Pratapgarh in eastern Uttar Pradesh. She works tirelessly and sacrifices most of her desires to make ends meet for a family of six people. Her husband is a daily wager and goes to town to find work. Despite all the odds, Sobhawati aspires to ensure proper nutrition and quality education for her children and free them from the field work so that they can enjoy and cherish their childhood.
Sobhawati has been working on her fields for many years cultivating majorly wheat and paddy. Irrespective of the increased labor and investment, yearly yield from her field is going down. Earlier she used to sell the excess yield in the market after keeping a yearly reserve for her family. On the contrary, for the past few years she had to buy from the market, production from the fields wasn't sufficient for her family.
In contrast to her situation, India is one of the top exporters of many agriculture products. Agriculture is the primary source of livelihood for more than half of the population in India and 70% of the rural households still depend primarily on agriculture. It may sound odd, but we are far behind our true potential. Most of the farmers especially the smaller ones use century old practices, lack modern irrigation methods, effected by climate change and more importantly women involved aren't part of direct income generation. Altogether, these reasons are leading the marginal farmers to the extent of extinction.
To support these farmers especially women, ChildFund with support from European Union and Barnfonden started an initiative to empower the women farmers from 10 districts of Eastern Uttar Pradesh. It encompasses working with civil society organizations to mobilize the women farmers to adopt the new agriculture practices to enhance the yield, grow multiple crops and vegetables and finally increase their income and make agriculture sustainable.
Sobhawati joined the program during the initial days; she was exposed to the fact that climate change is adversely affecting productivity and adopting new practices can help encounter the change. She became a part of a women famer group where she gained knowledge of modern and sustainable practices. With support from the group and Tarun Chetna she planted vegetables using scaffolding technique. Onion and bottle gourd were the first vegetables she planted in one corner of her land, used organic fertilizer and drip irrigation technique with support from the government agriculture department. On the scaffolds bottle gourd was growing while below space was used for onions.
Sobhawati made a net profit of Rs. 27,000 in that season, in the next season on top she planted bitter melon and below elephant yam and made a net profit of Rs. 30,000. Today, she is aware, informed and experienced and has understood the benefits of using modern practices. In addition to wheat and paddy she grows vegetables on the same field. Her financial condition has improved and her dream of giving a deserving childhood to her children has come true. The children go to school regularly, getting nutritious meals and enough time to play with their friends. Seeing the opportunity her husband instead of going to town is helping Sobhawati on the fields. Following her many women marginal farmers from her village are adopting the new agriculture practices and look up to Sobhawati as their guide and a pioneer.
It is a story of many such women farmers in India, they are struggling to meet their ends and migrating to cities in search of better livelihood. More such interventions and innovative techniques are required to increase productivity, encounter the effects of climate change and make agriculture profitable and sustainable.