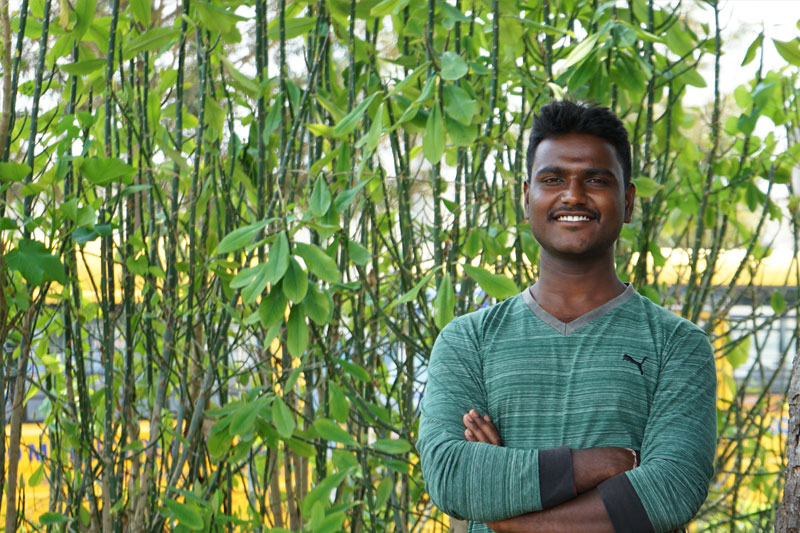 "Your job is very risky,'' my family always keeps telling me.  
"Every day I wake up with one aim, to prevent conflicts between humans and animals, to save more lives. Despite of all the risks, I am proud of what I do,'' Vijay said to the ChildFund team with a smile.   
Vijay's job is not for the faint of heart. Every day, he puts his life on the line to protect his community from dangerous wild animals and vice versa. He walks 15 kilometres around the forest area to ensure that elephants and other wild animals do not destroy the fields, which are a source of livelihood for his community. Vijay's job is not permanent, rather it will take him 10+ years of experience to regularise it. Despite the risks involved, Vijay describes his job as a dream come true.  
Vijay's journey to his dream job was not easy. Given his father's income as a barber couldn't adequately sustain their family of four, Vijay had to explore alternative options upon completing his 12th standard. He chose to pursue an electrician's course, with the goal of supporting his parents and his sister's college after its completion. However, after the completion of the course, he learned of the job opening at the Forest Department. Vijay was thrilled as this was his opportunity to land his dream job. With the support of his parents, he decided to invest his time and attention into preparing for the job application even though landing his dream job remained uncertain. This decision also meant that his family would continue relying on his father's income for the time being. For the next couple of months, Vijay worked hard preparing for his written as well as physical test. He spared no effort, working tirelessly to equip himself with the knowledge and skills required. Vijay secured the job he had longed for. His hard work and dedication had paid off.  
Vijay believes that his strong commitment and dedication to his job reflects the support that he has received from his sponsor and ChildFund India. He was enrolled in ChildFund's program at the age of four years and even though he has completed his official sponsorship age and is now employed, he continues to receive support and love from his sponsor.  
For Vijay, his sponsor's support is a source of great joy and hope. He speaks fondly of his sponsor, and he is grateful for the support he has received. Recently, his sponsor even gifted him a batch of chicks for rearing, which Vijay sold for a profit. His sponsor has expressed a wish for Vijay to continue his education and get a college degree, and this is a dream that Vijay intends to pursue in the future. For Vijay, the possibility to consider pursuing higher education is surreal because most children in his community drop out of school at an early age to contribute financially to their households. Vijay credits the guidance he received from ChildFund in shaping his perspective, as well as that of his family regarding the value of education. He pointed out that there are many families and children who are struggling to meet their ends and have not been able to come out of the vicious cycle of poverty. He has been encouraging young children in his community to prioritise education as a solution.  
When the ChildFund India team asked what his advice to young children is, he replied saying, "Don't let go of your dreams. You are going to face many problems, but you should not give up." 
For now, Vijay's focus is on his community. They rely on him to protect their lives and their source of livelihood, and he takes this responsibility seriously. People in his community feel they can rely on Vijay and is appreciative of his dedication to his job. Vijay's goal is to continue supporting his younger sister to complete her college education and achieve her dreams. And only after that, will he pursue his dreams of getting a college education and a regularized job. 
Despite the financial hardships, Vijay and his family understood the value of education and refused to give up it, which has benefitted them greatly. Vijay's story is a testament to the hard work and resilience he embodies which has contributed to his personal achievements and to the well-being of his community. 
Every Community Needs a Vijay!