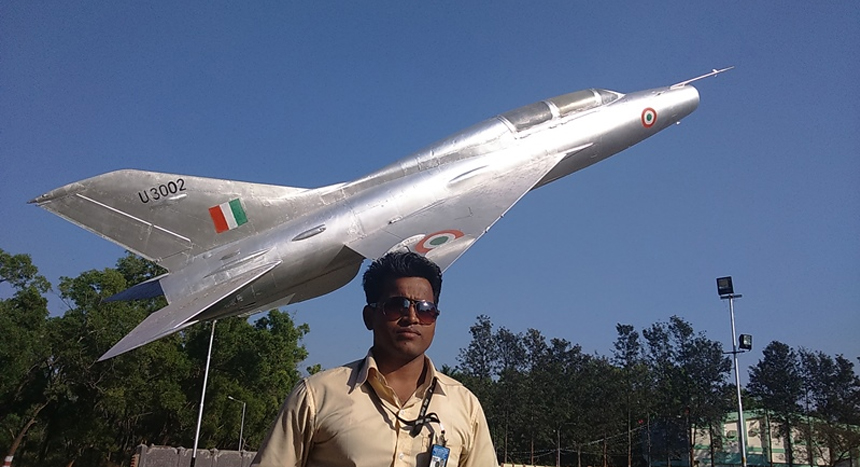 "A dream doesn't become reality by magic; it takes sweat, determination and hard work," says Santosh, a unit planner at Hindustan Aeronautics Limited (HAL), Odisha. "Not only am I well placed in life with a decent salary but have also laid the foundation of success for my family and community. But I must express my gratitude to ChildFund India and its partner Nilanchal Seva Pratisthan (NSP) who helped me keep my dream alive. They instilled in me vision, self-belief, the spirit of hard work, determination, and dedication. If it had not been for them, my father would still be a fish vendor  and I would have been doing the same… the social prestige that I get in my village as an engineer would not have been there either and our caste derision would have continued. But ChildFund changed my life."
 Santosh belongs to a scheduled caste family. He was a good student, but faced many obstacles. His father toiled hard as a fish vendor. Despite his parents' wish to support his studies, he was forced to help his father with his work.  
 One evening in 1996 Santosh's family attended a village meeting organized by NSP. The volunteers shared ChildFund India's philosophy to support children's education. His mother saw an opportunity and Santosh was enrolled in ChildFund's program.
After creation of a child federation in the village most of the beneficiary families comprehended the efforts of ChildFund.
Though his parents no longer had to worry for Santosh's education, they were still under immense pressure due to the impending marriage of his sisters. With a meager income, it was very difficult for them to save the required amount for their marriage. At this crucial juncture, ChildFund India supported his father's business with onetime financial assistance. With this they were able to ward off poverty to some extent and continued to educate Santosh. This financial support also motivated Santosh to do his best and strengthen his family's financial position.
Santosh became a peer motivator and played a prominent role in spreading the message of child rights in his village, stressing on their development and education, and imparting life skill education. He led the child club organizing events and programs in the village with support from NSP. They visited many households and counseled the parents of children who had dropped out of school or were not enrolled.
The efforts paid off as all the children in the village started going to school. Adolescent girls began studying further in colleges. The community began to monitor the quality of education in school and the functioning of the Anganwadi.
"Everything negative — pressure, challenges – they were all opportunities for me to rise," said Santosh. Eager to fulfill his dream of becoming an engineer, he passed matriculation (10th grade) with flying colours. NSP-ChildFund India provided financial support to enable him to pursue further technical studies. With a monthly scholarship, Santosh got enrolled in the regional Industrial Training Institute (I.T.I) and passed with first division.
Deciding to finance his studies further, Santosh joined the Coca-Cola Company as a fitter. After working there for nine months and saving enough he joined a college in Bhubaneswar to pursue a science course with scholarship from the government.
Upon completion, Coca-Cola again offered him a job with a higher remuneration. Simultaneously, he joined a diploma course at the Zenith Institute of Science and Technology. He studied hard during the day and worked at night. On gaining the diploma in 2013, he joined Hindustan Aeronautics Limited (HAL) as a trainee engineer.
"To be a champion, you have to learn to handle stress and pressure. But if you've prepared mentally and physically, you don't have to worry. This, I have learnt from the life skill education provided by ChildFund," said Santosh.
Having witnessed Santosh's success his neighbour said, "We motivate our children by quoting his example." Two children are also following in his footsteps. One of them, Manas, is working at Coca-Cola. And another, Abinas, has secured post matriculation scholarship to pursue diploma in engineering at Bhubaneswar.
 Santosh often visits his village and involves himself in the child federation that helped him in his journey.